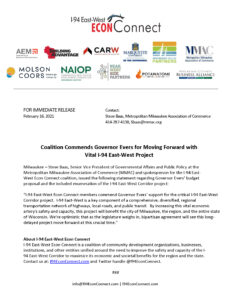 Steve Baas, Senior Vice President of Governmental Affairs and Public Policy at the Metropolitan Milwaukee Association of Commerce (MMAC) and spokesperson for the I-94 East-West Econ Connect coalition, issued the following statement regarding Governor Evers' budget proposal and the included enumeration of the I-94 East-West Corridor project:
"I-94 East-West Econ Connect members commend Governor Evers' support for the critical I-94 East-West Corridor project.  I-94 East-West is a key component of a comprehensive, diversified, regional transportation network of highways, local roads, and public transit.  By increasing this vital economic artery's safety and capacity, this project will benefit the city of Milwaukee, the region, and the entire state of Wisconsin. We're optimistic that as the legislature weighs in, bipartisan agreement will see this long-delayed project move forward at this crucial time." 
The statement is also available by clicking here.